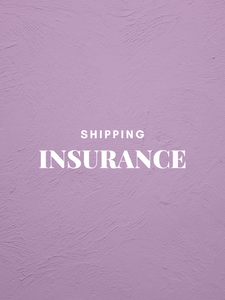 Shipping Insurance
Sometimes things get lost in transit, and that stinks!
Make sure to have yourself covered just in-case that happens with shipping insurance!
For example, if you want to insure your items valued at 250 USD total and you are using shipping that cost 20.50 USD, then you can add insurance for 270.50 USD to your shipping label
When you file an insurance claim, you can't claim more than the amount of coverage you have paid for.
______________________________________________________________________________________
We aren't held responsible for packages that are lost by USPS or UPS, or sent to the wrong address. We are not responsible if you give us your address incorrectly and it is shipped back to us. We HIGHLY recommend that you purchase Insurance to make sure you are covered if USPS or UPS messes up and you don't receive your order! 

When purchasing please make sure to purchase enough to cover your whole order!

If your order is sent back to us because you gave us the wrong address and you did not purchase insurance, you will be asked to pay for shipping once again or we will refund your order minus original shipping cost.